Ah, this dress. I am
so
pleased with it, to tell you the very honest truth. The little details really pay off! It takes so much extra time, but proper ironing, topstitching, and blind hems all make my heart beat a little faster when I see the results of my hard work. I mean, I'm already going to be spending hours working on something... I might as well be a perfectionist, right?
Although, I don't know if the word "perfectionist" can be applied to my kind of sewing. Self-taught, I mean. Obviously I have plenty of projects where I let things slide, but I kind of feel like when I'm making something to sell, a switch in my brain flicks on and I
do things properly
. Because I don't want something to fall apart on a customer, and I want them to know they're getting quality for their money. How horrible would it be for something to fall apart? But because I'm always learning, and I wasn't taught to measure everything to the exact eighth inch, things aren't perfect. But darn it, I try!
Man, I don't mean to sound like I'm tooting my horn over here. I worry that some of the pieces I sold a few years ago when I was less experienced weren't up to par (although I'm hoping this is just me being overly critical) and I don't want to feel that way about the things I'm making now, so I just try my best.
So, I got photos by the mustang! I am so excited about this. I'm also hoping to get more pictures here sometime in better lighting. Maybe some soft sunlight. I was paranoid of getting grime on the dress (white is a
hard
color to manage!), so I washed the parts of the car that I'd be near. You can kind of tell where the washing stops.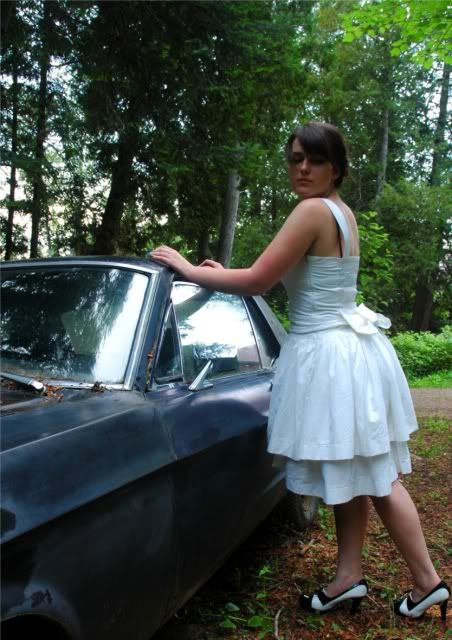 Ready for some dress details? Okay, me too. It's out of a nice cotton with a subtle off-white floral pattern. My mom got the fabric at our Fiber Guild exchange thing--it was originally bought for a quilt backing, so I have yards left. The dress is quite a bit like my sheep dress, with a few key changes! The straps aren't halter style, there are five buttons in front, and I made a removable bow belt for it. I also did a lot of topsitched detailing on it, which helped make the skirt lie more smoothly. I'm thinking that this exact style in light blue would be perfect for an Alice In Wonderland-inspired dress!
While I'd love to give you a bunch of sweet details on the car, I can't! All I know is that it's a '67 Mustang something-back, and it needs a paint job. (And that the upholstery is stellar--houndstooth fabric on the seats! So awesome.)
After a bit, I noticed that the sun was setting, and headed down to the lake to get some shots in that golden light I love.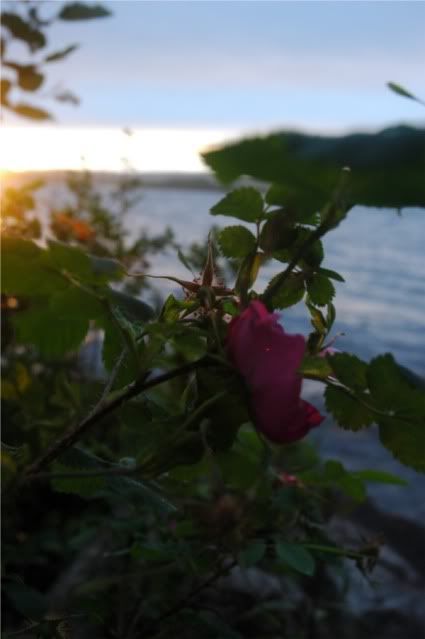 Wild roses are so beautiful, and very plentiful this time of year.
Also, new header! I'm trying it out, but it might not stick. I think this will be my new font, though; it's simple but fitting.
Can't believe it's only Tuesday. I worked on cabins and the lodge and stuff all day yesterday, and then cleaned my room (well, started to) and then sewed for about five straight hours today. Now after working on this post and editing photos for a few hours, I think my eyes need a rest! But seriously, having to post every day for a stretch of days has been really good for me. It's such a good motivator, and I think I'm more apt to sew just to get more material to post!
(Oh, by the way, this dress will be listed within a couple weeks when I open my new shop. I'll keep you posted.)