...and the way the sunlight plays upon her hair...
So, I actually wear this outfit quite a bit. It's just a perfect blend of cute and casual, is wonderfully summery (I can't get enough of yellow), and it's super comfortable. I love this shirt. There was a "fill a bag for a dollar" sale at Salvation Army when I was still away at school, and I got there in the last fifteen minutes, having barely heard about it in time. I basically threw anything that kind of might look okay into my bag (including a couple things that were most definitely donated back later). I'm so pleased I grabbed this! (Haha. I'm gushing about a t-shirt.)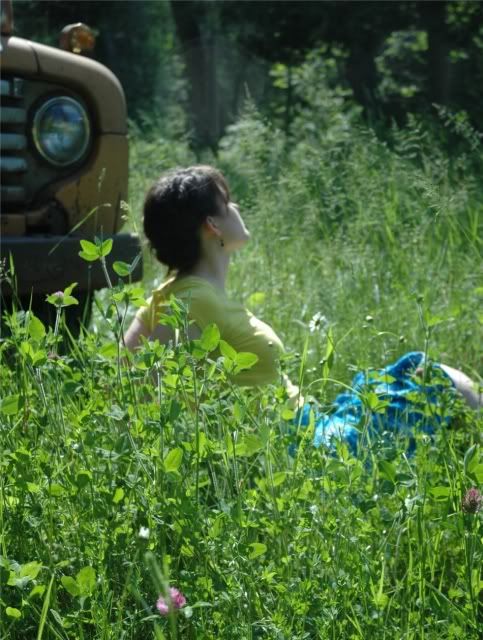 I braved ticks and bees to hang out in the tall grass in front of "Gramps," the antique dump truck that has been in my family for several generations. This area actually used to be a pasture: once upon a time,
we owned donkeys
, and this lovely hill was a part of their old stomping grounds. (The donkeys have since gone to live with a friend of ours in Montana.)
Guys, I am having so much fun taking photos this summer! My dad's camera is magical. I don't know how to use it as well as he does but it's sure been an adventure figuring it out! I spent about twenty minutes sweating in the sun, trying to figure out how to turn off the autofocus but still retain the rest of the automatic settings, but did not succeed. (Maybe reading the manual will help. Haha.) So I'm slightly out of focus in some of these, but it's not too bad.
Ah, lying on a blanket in the sun reading a decadent cupcake recipe book. Sunday afternoons in the summertime are pretty wonderful. (Sorry my shoes aren't very visible in any of these shots! They're the yellow ones I always wear.)
earrings / handmade | top / thrifted | skirt / handmade | shoes / modcloth