This has been such a productive week. I finished four dresses, worked out a new pattern, filmed a tutorial,
and
put in hours here at the resort. I'm feeling a little pressure to get things done since I realized I've been home for over a month--only 2 1/2 months left of summer! Besides, it's harder to get as many things done once friends start arriving. So I'm sticking with my goal of getting a 20 piece collection done this summer ("collection" is used loosely, because I don't necessarily expect the pieces to fit cohesively). Officially, out of dresses for the collection, I have 2 finished. So. 2 down, 18 to go. Once I get more fabric, it'll be easier to do.
Oh, hey! You're probably wondering why I'm chattering so much and not showing you photos! Well, okay. Since you asked nicely.
I was super inspired by the heart cutout dress in my last
Inspiration Wednesday post
, and I even hinted to making one, but I didn't know if I'd actually be able to pull it of, having never done the technique before. On my second try, after some brainstorming with my mom, I cracked the code (interfacing, lining, topstitching, and then facings on the neckline). So this is my third go at it, and I think I'm addicted. It's incredibly fun, believe it or not, watching it come together. I kind of want to try a star cutout next.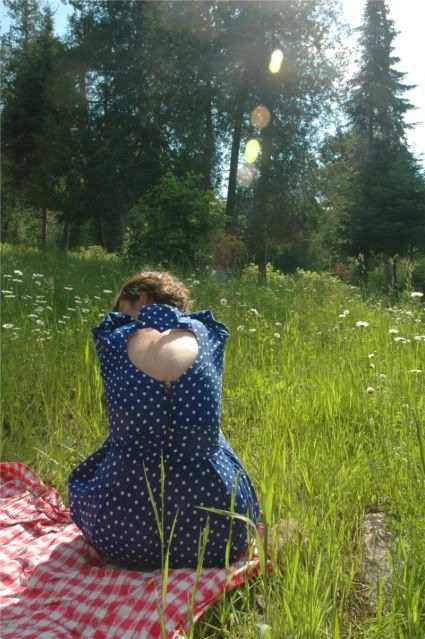 I made my own pattern, using the same style as I had on my Audrey Hepburn-inspired dress (with a few fit-minded alterations), copying a vintage sleeve, a built-in rumpled belt, and box pleats on the skirt (which I am obsessed with!). It fits me perfectly, and it's just... perfect! I am so in love with how it turned out, I want to wear it everywhere!
In summary: This is my ideal summer dress. I can't wait to wear it all over the place.