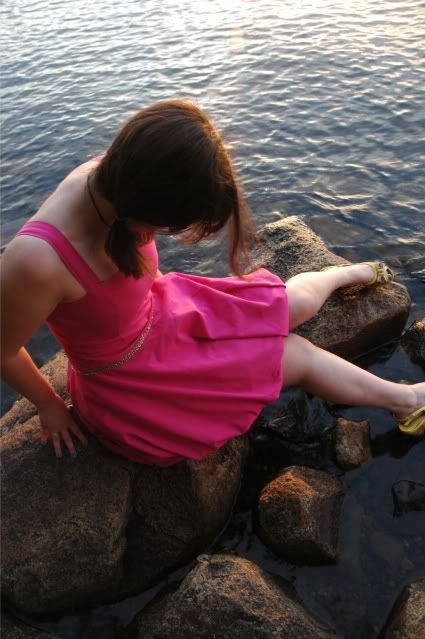 I love when a handful of safety pins can completely transform a dress. I've worn this dress in a couple
different
ways
before, but I think this is my favorite. The silhouette is what gets me, I think! I just adore dresses that are fitted in the waist and HUGE on the bottom. Safety pinning the hem to a slip even fooled my mom, who saw me in this and at first said, "New dress?" And I show her
everything
I make, probably annoyingly so. We actually had a conversation about that once, which ended with me saying, "You're like my Tim Gunn!" and her quipping, "Make it work!"
But anyway, the point is, I'm all for wearing clothes over and over in different ways--clothes are meant to be loved. It makes me feel unsettled to know some people wear clothes once and then donate them and buy new ones. I want people who buy the clothes I make to have that feeling where you want to wear
that
piece, and nothing else will do.
glasses / f21 | necklace / adriannemae | dress / handmade | chain / gift | shoes / modcloth
Um, best time of day to take pictures ever! I seriously didn't edit the lighting or colors in these at all. It's got it all: saturated colors, sunspots, lens flare, and silhouettes. Perfect. (Makes up for yesterday's darkness, right?)
I'll let you in on a secret: I barely wore this today! To be honest, I was lazy and in sweatpants. How embarrassing! Haha. But I dressed up for you guys.
I like that, besides a log of projects and personal style, this blog is kind of a journal of sorts. I can look back on some of the best (and worst) days of the year so far to see what I was wearing and thinking. And you know what? I'm actually loving this posting every day thing. It's kind of a scramble sometimes, but as long as I can keep things of a certain quality, I'd like to try posting almost as often for most of the summer. We'll see how that goes! This is so fun. Ha.
P.S. HAPPY BIRTHDAY DANA! I love you!