This is what I'm wearing today... and as a bonus, I'm sitting on what I've been working on! My mom and I worked last week to give the bedroom in one of our cabins a bit of a facelift. This involved sanding the old finish off the floor, re-varnishing, and repainting the walls from an ugly yellow-tan color to white.
Trust me when I say it looks
tons
better.
It's actually pretty fun to do work like this. For one, it's not as never-ending as cleaning tends to be, and for another, the results are incredibly rewarding! It's the best, being able to stand back and say,
"We did that!"
proudly. That's one thing I did get out of my Stage Craft class last semester: the gratification of building things that contributed to an incredible production.
It's pretty rare to have a nice white wall and a clean wood floor in a location that has nice lighting for photos, so I quickly took advantage of it before the furniture got moved back in. I wish I could have this spot all the time!
Here's the view out the window: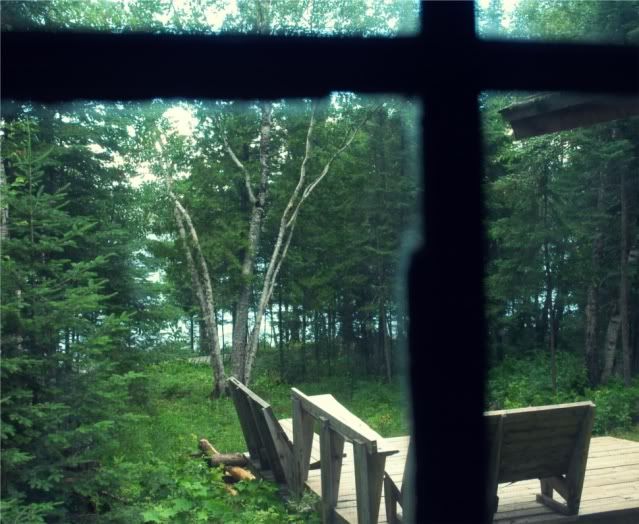 blouse / thrifted
|
dress / handmade | shoes / modcloth
I took a leaf out of my friend
Veronika
's book for the above shot. (Click on her name & visit her site! She's such a dear & she's terribly talented.) I can't say I'm totally sold on this outfit... I can't decide whether it makes me feel like a schoolgirl or not. However, this has got to be my favorite color combination pretty much ever. (Even if I'm wearing these shoes to death.)
Alright, I've been on a period-romance-film kick recently, having watched
Bright Star
and
The Young Victoria
in the space of a week. (I plan to re-watch
Jane Eyre
whilst sewing tomorrow.) However, I'm kind of running out of ones to put on my Netflix queue, having exhausted most of my options in the last few years. So, I have two questions:
do you have any period film recommendations?
(I enjoy BBC miniseries, films based on classic novels, and any costume dramas. Prefer romances because I'm girly like that.) &:
What's your movie obsession as of late?
Do you do it by genre or actor or not themed at all? (I get stuck in genres and themes, as well as actors: travel films, indie comedies, Zooey Deschanel films, & romantic comedy marathons, haha.)