We've had this swamp settee for pretty much as long as I can remember. It used to be on our screen porch, out of the weather, but I remember my dad painting the seats blue and moving it down to the lakeside probably ten years ago (at least). My parents would go have cocktail hour and look out over the lake while sitting on it. I would have tea party-picnics on it with friends (and our stuffed animals!) in the summertime.
But over time, the rain and snow have rotted the now moss-covered slats. It blends in pretty well for having been blue, and it has an endearingly forgotten look to it. In a few more years I'm sure it won't be more than a pile of boards, covered in fuzzy moss and sinking into the ground.
I realize that my outfit today is a terrible mix of prints and textures. But can you blame me? I was just really excited to be able to wear this coat again!
coat
- delia's
skirt
- vintage
boots
- forever21
My brother is a good looking, well-dressed fellow, and he let me get a picture of his outfit today--and furthermore, agreed to let me post it here
and
make a lookbook account for him! He kindly puts up with me very well.
fedora
- overland sheep co. in taos, nm
vest
- thrifted
moccasins
- minnetonka
sunglasses
- rayban
Finally, here's a shot of the lake this evening!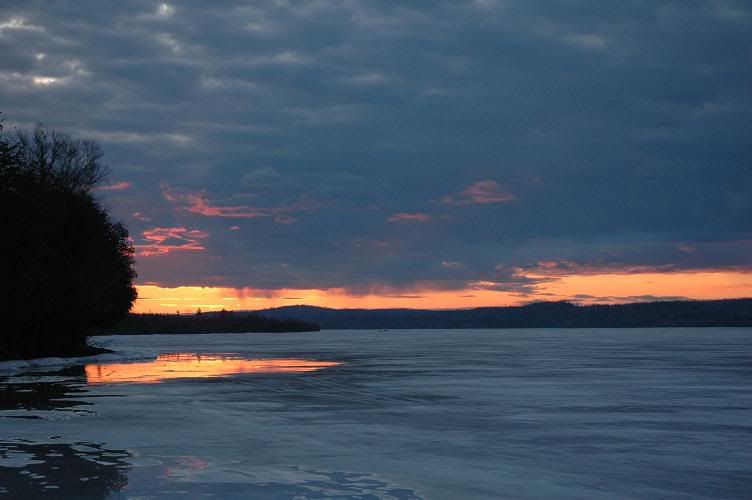 It never has standing water on the ice this time of year, but it's been unseasonably warm these past few weeks. Creeks have been starting to flow and the snow has mostly melted! I'm certainly not complaining, although I might've liked to be able to ski a bit this week... Instead, I'll get to pull out my hula hoops and see if I've forgotten the tricks I taught myself in the summer!