Have I ever expressed my love of antique and vintage sewing machines here? Particularly
colorful
machines? If I haven't, shame on me. I adore them, and I adore sharing this love with others. I browse ebay and etsy for machines, even though I have no reason (beyond distant dreams of a collection) to even think about purchasing any. Hey, as far as collections go, sewing machines would at least be useful, wouldn't they?
I was given the most beautiful machine about two years ago by a close friend of the family. It's a green vintage Elna, with a metal body and those disk things that you have to switch around to change the stitches. It never really worked for me, so I brought it in for a servicing. It did work right after I got it back, but not for long--something happened with the upper thread getting caught in the tension dial and snapping, and the bobbin case could get loose. I sadly packed it up with plans to maybe try again another time, perhaps after I became a sewing machine repair guru--an eventual plan of mine, for real.
It sat, lonely and boxed up, under the table in my sewing room for a year and a half, save the one time I tried unsuccessfully to get it to work properly. Then, yesterday, I wanted to sew. However, my sturdy Pfaff is in my dorm room, and it would've been pretty ridiculous to lug it home for spring break. So I pulled out the Elna, oiled and threaded it, and put a piece of scrap fabric under the presserfoot. I hesitantly nudged the knee lever. With a cheery whirring noise, the machine sprang to life and took the fabric perfectly. The thread fed smoothly, without getting stuck or snapping. I was delighted!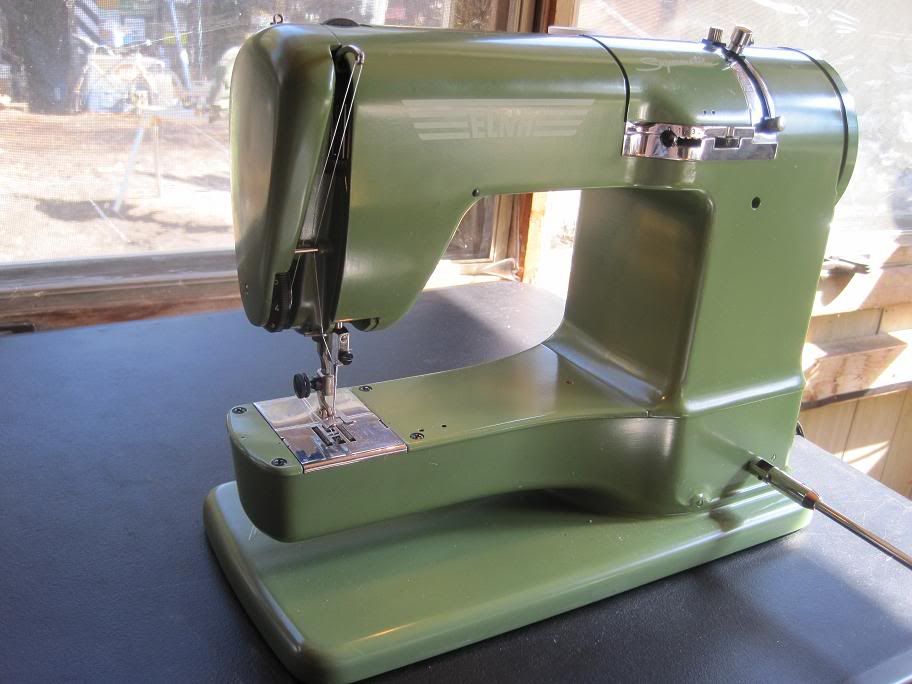 (Ain't she lovely?)
So to make a very long story much shorter, it works. There were a few hiccups, but I'm pretty sure I was just threading it improperly before, because everything works wonderfully now. This little machine feels like it can do anything! It came with a bunch of doodads (including a massive ruffler foot that I'm psyched to try!), stitch disks, and the original manual. I'm completely set! I do miss a few things about my Pfaff (measurement markings on the plate, invisible zip ability, actual petal, etc.), but I'm so relieved and excited this works. It's also ideal for those 50's-housewife-moods, if you were wondering.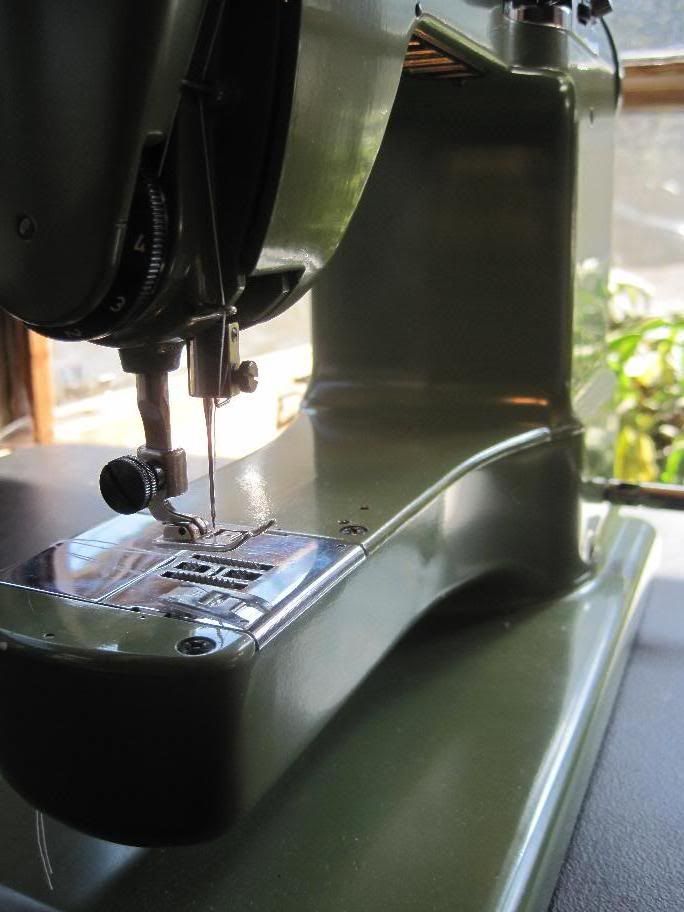 I won't give it away until I take nice pictures tomorrow, but I made something today with my new fabric. Here's a teaser.
Can you take a guess?