Or a tea. Or an afternoon cocktail party. I would be properly attired!
This outfit was ridiculously easy to make. Here's a rundown of how I did it:
The skirt, believe it or not, used to be a pair of pajama pants. It's 100% silk fabric & I couldn't possibly say no! I cut the legs off right below the crotch & opened up the inseam so I had two large chunks of fabric. Then, I stitched the two together, making the hem of the pants the top of the skirt. After that, all I had to do was pinch + pin a bit to adjust the fit, insert an invisible zipper, and hem the bottom! So simple.
I'm really excited about the shirt, & am thinking that a version of it will be in my spring/summer collection. It was just a basic scoop neck top, but with a longer cut & an unfinished bottom (so as to avoid awkward lines under the skirt). Then I cut spirals out of the fabric, and handstitched them with pearls to the neckline. I was inspired by... okay, this is going to sound funny, but you know how in regency times, men would wear those huge, ruffled, complex cravats? And the fabric is just spilling out over their vests & coats. I love the way that behaves! So I tried to modernize it, & it ended up being a very pleasing effect.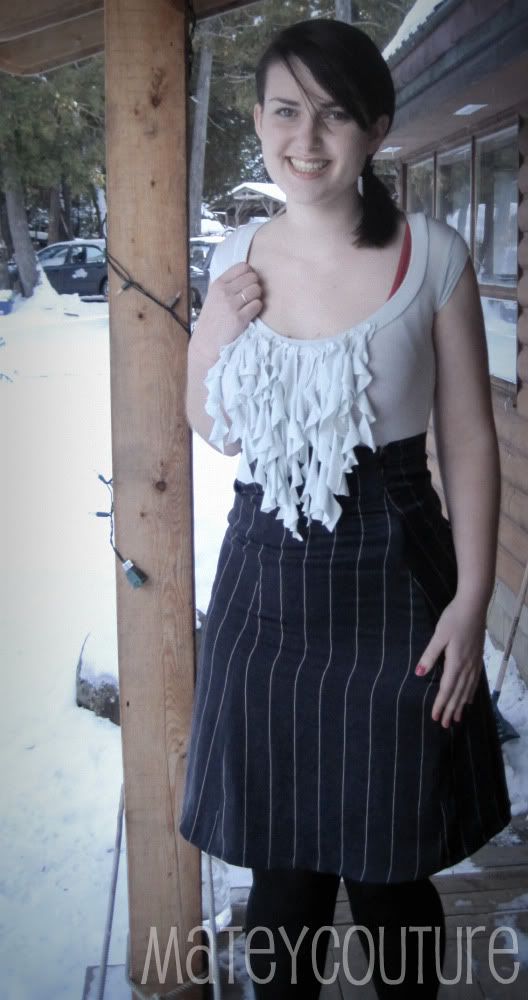 So, yes, I'm very excited about this new outfit! I made both pieces yesterday evening--that's how easy it was! It doesn't exactly fit in my world right now, but I'm wearing it anyway.