Have I mentioned how much I adore my tiger shirt? Because I do. I really, really do. It has metallic silver on it.
I have a little over a week to finish everything for graduation, and for shame! I feel like I've barely made a dent in it. I also only have two weeks of class before finals, believe it or not. I can't believe how fast time is going by! Pretty soon everything will be done and I'll be home again. It's kind of scary when things speed up like this; I feel like I can't keep my grasp on things. And my to-do list simply seems to get longer!
The prospect of being home is terribly exciting, though. I don't exactly have jobs lined up and I'm pretty worried about that, but I'm also vaguely hoping to start up my shop again with a bang, kind of running a one-woman sweatshop. Maybe I'll just do odd jobs and scrap together enough to make it through next year.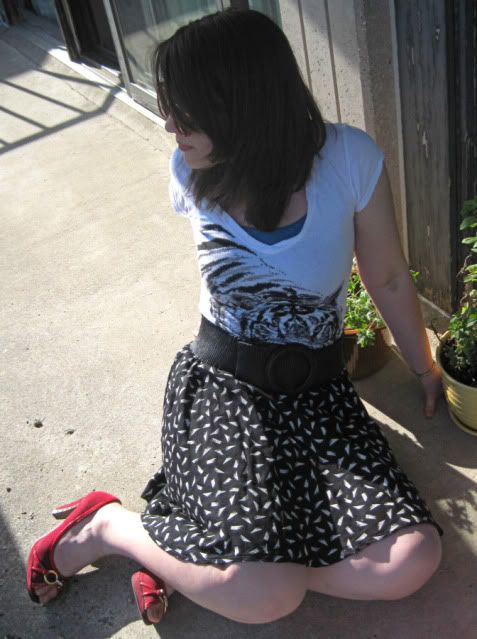 shades / bluedame // top / target // belt / traded // skirt / thrifted // shoes / vintage


I
had lots of challenges with the shadows when I took these photos, but somehow I think they came out halfway decent. More interesting than my balcony shots normally are, anyway!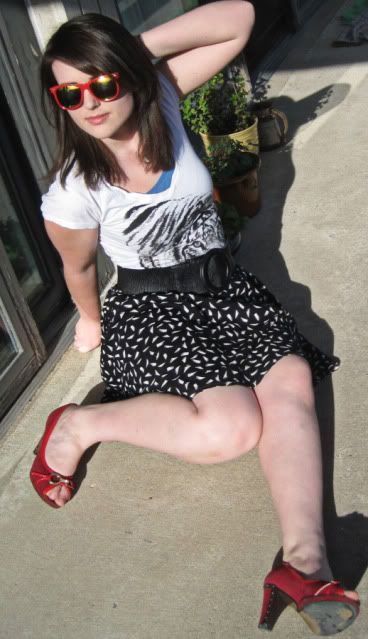 Last night we went to the Flogging Molly concert. It was awesome! Such a great show. I love having the opportunity to go to live music, especially really
good
live music
.
I was in the mosh pit for a little while, but I felt bad, like I was in the way. Haha. I also didn't wear this outfit, if you were wondering. Heels in a mosh pit? Heck no! Anyway, I scooted over to the edge to some other friends & to a spot where I could actually
see
the band. I'm too short, apparently! But, yeah, they put on a fantastic show.
So, um, any helpful coping tips for crammed studies & finals week?