I got the replacement shoes for my blue "Porch Swing Peep Toes" (as seen in my spring collection photoshoot--the Taos pictures. The strap had broken.)--but in yellow. They were out of blue in my size! So the last couple of days, I've been wracking my brain--and my dresser--to try to find things to work with them. The idea to reconstruct this dress came to me late one night as I was trying to fall asleep.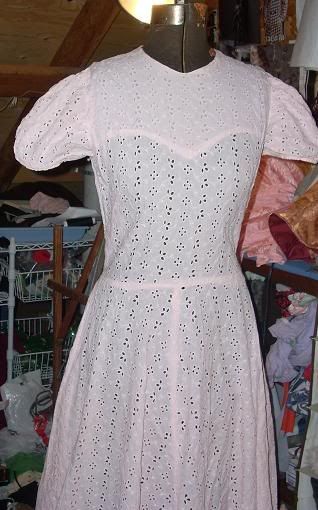 This is a vintage dress, and I highly suspect it was handmade. This is just a guess based on what I found as I was taking it apart, but at first I felt guilty for cutting into the loving handiwork of someone. But then I realized that, as a seamstress, they'd probably be pleased that it was getting a second life, and would be worn for years to come. Maybe someday, in 50 or 60 years, someone will be reworking what I've made into something else--the idea delights me!
I was somewhat terrified of cutting into this dress, and my first idea for it was quite different than what it has turned out to be. I had hoped for it to be somewhat like
this dress
from ModCloth, but as I tried to create the pattern, I realized it just wasn't working for me. I scrapped it, and decided to do a
ruffled bust
instead. I admit, I need to work on these! The shaping didn't go as well as I'd hoped, and the fit isn't perfect, but for my second try--and first in non-stretch--I'm pleased.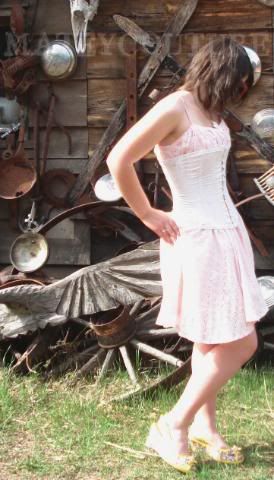 Corset: optional. Only when I'm in the mood for pain & constriction (because that's steel boning, there, baby! **). I'm also planning on making a black vinyl belt/waist cincher to go with this, for days when I'm feeling less "Pretty in Pink". (Can I hear a woOt for movies featuring DIYers?) I'm really glad to have a dress all set to wear with my new shoes!
ALSO, big epic news... I've defeated the Evil Invisible Zipper with the help of a simple, 3$ Coats & Clarke Invisible Zipper foot. These things are easier than normal zippers! Count me impressed and completely converted to an invisible zipper fan. (Maybe I'll post pictures of my disaster attempt on my prom dress someday--back when I didn't even have a regular zipper foot!) This is, truly, invisible. Hoorah for new skills!
**Steel boning, yes, but not proper, healthy & good for your ribs kind of boning. More like steel strapping from a bundle of lumber --but recycled!!-- boning. So who knows what kind of rearranging my organs are doing right now.