Never before seen on Matey Couture: Addie actually smiling as she models! (Oy, third person rocks.)
No, really, I think this is the first time. I posted a picture of me smiling a few posts down, but it wasn't a modeling shot. Here I tried to smile winningly at the camera.
After: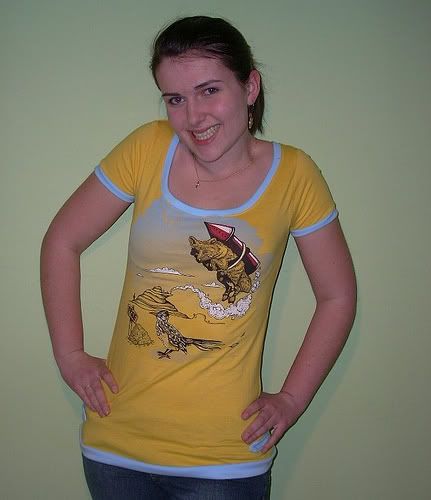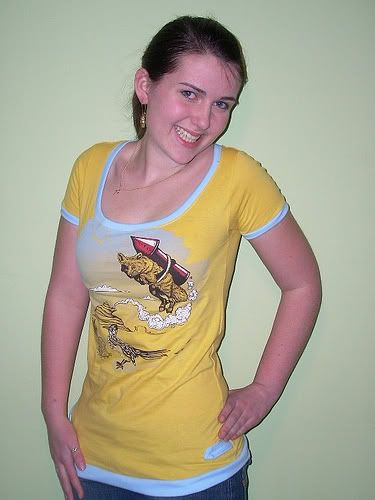 Details: Capped sleeves, keyhole in back, scoop neck, tabs at lower sides. I fell in love with the print the minute I saw it, but hoarded the tee until I could find the perfect fabric to match it. Turns out Hancock was having a sale on cotton jersey knit, and they had this color-- it was so perfect! I'll probably add buttons on the tabs & at the top of the keyhole, but I haven't found the right ones to put on it yet. I'll be taking real photos of this for my shop on my vacation.... you'll just have to wait to see the awesomeness, but know that it'll be epic, especially because of where I'll be taking the photos. :)

Oh, and I entered it into Project Threadbanger & got second place!! (By the way, I won last month, but by default because nobody else entered. :\ Still, it was exciting.)
Hope you're staying warm, wherever your location may be! Here in MN it's crisp & below zero--and I can't wait for t-shirt weather!